April started off with us seeing some clients come back on board and wanting to do some projects, which is great! The last few months has been very tough as most clients have put all projects on hold due to their own circumstances, cash flow, their projects were delayed, Xmas was very tough so they needed to recoup the cash again, large ATO debts, many different reasons, but it's great to see the businesses overcome these hurdles and now wanting to invest back into their company.
The projects signed off this month are all systemisation and automation projects. This is where we dig down deep into each section of their business, determine the key driver and then go about implementing a set of changes and improvements to systemise and automate the entire business from start to finish.
Bryan Worn, our business coach, is now back on board full time with us which I'm loving as he is holding us (Amy, Dean and myself) accountable. We had a key meeting where we all agreed to focus on getting the numbers up in all aspects of the business, from touch points with customers, projects being completed and invoiced, all focusing us on one thing even though we all play different roles.
Content Writing, Videos and Live Feeds was a really big part of April with pushing out daily and weekly posts all focusing on brand awareness for both CROFTi and Unlimited IT Support.
We also participated in a social media challenge where $10k was up for grab so we created an Unlimited IT Support video which included an introduction to all our staff and our fun remote working lifestyle!
My motivation has definitely kicked back in this month with noticing it in my fitness / healthy eating regime, reduced alcohol and lack of sleep. My mind has switched back to the "on" mode and I'm starting to feel more like myself again.
Next, we headed over to the Philippines for a working holiday. I say working holiday as we mixed the trip with, relaxing, a weekend away with our team in Bohol and a mate from Brisbane's wedding in Boracay.
The trip started with the usual 20 hours of traveling, in a cramped seat with no sleep. We left Brisbane, stopped over in Singapore and then headed down to Cebu. The first week of the trip included staying in a hotel near Cebu Airport, Movenpick, yes just like the ice cream. You could tell this hotel had been around for a while as it was slightly outdated and bit rundown. The pools, beach, and bars were pretty cool. The crazy thing about this place was the cost! Like OMG super expensive! Same pricing as the Philippines as in Australia. The accommodation was $300 a night, the Cocktails were $15 and Dinner was $30. After 3 days there we spent $800 just on drinks and food. Totally not expected! On top of this, the staff is still only being paid 10,000 pesos per month  / $350 AU. This is a 1/3 to 1/5 of what we pay our staff.  I wouldn't recommend anyone to stay here. You will see why in my May blog on the costs of other places around the Philippines.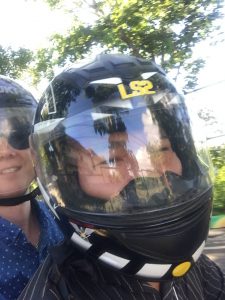 I always love new experiences and so Devon (first time we meet in person) picked me up on his scooter and we headed down to the office to work for half the day. Weaving in and out of traffic we managed to get there in one piece lol Traffic in the Philippines is just crazy! Of course I just had to do a Facebook live while we're on this crazy adventure.? We complain back here in Australia but we have nothing to complain about when it comes to traffic. We then head out to breakfast and I thought why not give a local cuisine a go so we rock up to this stall on the side of the road and Devon did all the talking and ordered chicken and rice, typical I know, should have expected that. It was nice, easy to eat and didn't get sick! That's the one thing us Aussies always worry about, getting sick. I got to meet Emelie for the first time as well in this little expedition to the office as well. Even though Emelie has only been with us for a few weeks, meeting in person is like we have known each other a hell of a lot longer. Technology is great for communicating and building virtual relationships.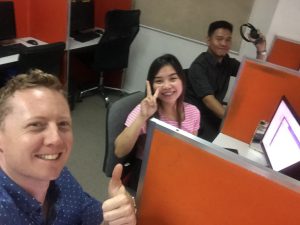 Over the last 5 years of Offshoring I have had many staff from India and the Philippines typically always working from home but in recent times (the last 2 years) we changed it to an office environment mainly to ensure we are abiding by the local government laws with paying tax. We currently only have 2 staff working for us in the Philippines from an office and the rest work all work from home. I get asked a lot about how the work from home situation works and to be honest it's the same anywhere in the world, as long as you find the right staff (personality, attitude, and passion) which fit into your culture than working from home will be like your all working from an office together. Yes, of course, you will need good systems to support this but it will work perfectly fine with the right staff members.
Amy and I headed over to an island off Cebu called Bohol for a few days away together to relax before catching up with our team for a weekend full of activities. Well, this didn't quite work out as planned. Amy got Gastro which was just amazing! This left her in the bedroom for 3 days and then I got it for 2 days. Perfect timing! So relaxing together didn't quite happen. By the time the team arrived Amy was better and I pulled myself together enough to go on the bus day trip with the guys. I felt bad as I was not excited to be around at all! Made it through the day and was able to hang out with the guys for a few hours after and the next day but it was defiantly not what we had planned. Oh well, you can't always have what you plan for right!
Zip Line Ride!
Our Philippines Staff with their Families!
Remote Working Life Style at its best!
More Photos from our awesome vacation here!